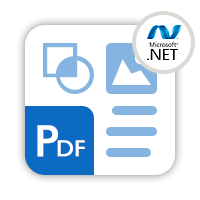 276
Downloads of v 3.9.168
42
Average downloads per day
2017-06-20
Last published
Spire.PDF for .NET
3.9.168
Spire.PDF for .NET is a versatile PDF library that enables software developers to generate, edit, read and manipulate PDF files within their own .NET applications. As a standalone PDF component, Spire.PDF for .NET provides users an incredible wealth of features without installing Adobe Acrobat. This component is completely written in C#, but also supports VB.NET, Windows Forms and ASP.NET.
With the Spire.PDF for .NET API, you can get the ability to read PDF text and image even attachments with high efficiency. Even the special content such as language written from right to left can be extracted such as Herbrew and Arabic. Other basic features such as text, image, table, shapes, hyperlinks, bookmark, headings, footnotes, lists, form fields, pagination, booklet barcode, attachments, transparency, annotations, actions, overlay etc all work great for users. As for security, Spire.PDF for .NET enables you to protect your PDF files by passwords and digital signature.
To install Spire.PDF for .NET, run the following command in the Package Manager Console
Install-Package Spire.PDF
Release Notes
Spire.PDF 3.9.168

Fixes the issue that caused the logo image was incorrect when printing the PDF file.
Fixes the issue that caused the Stamp was lost when printing the PDF file.
Fixes the issue where the layer cannot be deleted.
Fixes the issue that the content missing when converting PDF to XPS.
Fixes the issue that cuased ArgumentException when using FindText method.
Fixes the issue that the method DrawTemplate doesn't work.


Spire.PDF 3.9.141
Supports to convert specific PDF pages to SVG.
Fixes the issue that caused the image profile lost when converting image to PDF.
Fixes the issue where all the radio buttons were in selected state when converting PDF to PDF/A.
Fixes the issue where some readers showed certain checkboxes to be unchecked except Chrome.
Resolves the issue where the Combobox field values were not displayed.
Fixes the issue where the icon on the ButtonField was improperly getting placed.
Fixes the issue where the images on the pdf file was improperly getting placed when printing the PDF.
Resolves the issue that caused the exception that page index was out of the range of the page in the document.

Spire.PDF 3.9.124
Add IsPortfolio property for PdfDocument to detect if a PDF document is a portfolio.
Add new properties for PdfButtonField to handle button/Icon layout.

Fixes the issue that the position of extracted text was located incorrectly.
Fixes the issue that the rotated text was lost when printing.
Fixes the issue that the image was lost when printing.
Fixes the issue that the alignment of FormField changed when flattening FormField.
Fixes the issue that the content was lost when saving as Image.
Fixes the issue that underline/strikethrough appeared in the table when there is no text in the cell.
Fixes the issue that the PdfDestination(int pageNumber, PointF location, float zoom) constructor can't create bookmark.
Fixes the issue that caused the error "Insufficient data for an image" when replacing Image with ReplaceImage method.
Fixes the issue that the barcode appearance was incorrect when printing.


Spire.PDF 3.9.82

Fixes the issue that caused blank image when converting PDF to image.
Fixes the issue that caused incorrect result when converting PDF to image.
Fixes the issue that caused the process hanging when converting PDF to image.
Fixes the issue that caused some characters missing when converting XPS to PDF.
Fixes the issue that caused incorrect header when converting PDF to .doc.
Fixes the issue that caused incorrect result when converting PDF to Pdf_A1B file format.
Fixes the issue that caused ArgumentException when using the ExtractText menthod.
Fixes the issue that the size of text in textbox cannot be changed.
Fixes the issue that the checkbox cannot be edited after saving PDF.
Fixes the issue that caused wrong content when printing the PDF file.
Fixes the issue that NullReferenceException when merging PDF.
Fixes the issue that caused wrong position when drawing HTML.


Spire.PDF 3.9.27

Support to set "Commit selected value immediately" for ComboBox field and ListBox field.

PdfComboBoxField.CommitOnSelChange = true;
PdfListBoxField.CommitOnSelChange = true;

Bug solutions:
Fixes the issue that caused ArgumentException when loading the PDF file.
Fixes the issue that caused "Checksum check failed" exception when loading the PDF file.
Fixes the issue that caused wrong barcode and incorrect content when printing PDF.
Improve the performance of converting PDF to image.
Fixes the issue that caused header was missing when converting PDF to .doc file format.
Fixes the issue that caused blank content when converting PDF to XPS.
Fixes the issue that a pop-up message warns you to save the changes while in fact nothing have changed when closing the file in Adobe after the merge files function.
Fixes the issue that caused NullReferenceException when using FindText method.
Fixes the issue that caused the process hanging when using ExtractText method.
Fixes the issue that barcode cannot be scanned after setting the size of barcode.
Fixes the issue that the method DrawImage didn't work.
Fixes the issue that caused NullReferenceException when using PdfFormWidget.ExtractSignatureAsImages().
Fixes the issue that the SelectedIndex property of a RadioButtonList didn't work.
Fixes the issue that the result image was wrong when replacing image on PDF.

Spire.PDF 3.9
Fixes the issue that caused first page was blank when converting PDF to TIFF image format.
Fixes the issue where the generated pdf threw an exception that insufficient data for an image while being opened in adobe reader when converting TIFF image to PDF.
Fixes the issue that caused PdfButtonField border visible when setting the BorderWidth property to 0.
Fixes the issue that caused the exception that the character 'z' is invalid inside an ASCII85 block when using MergeFiles method.
Resolves the issue that caused the image was lost when printing the PDF file.

Spire.PDF 3.8.193
Support to set the barcode size when draw the barcode.
Fixes the issue that caused wrong content when converting PDF to PDF/A.
Fixes the issue that caused Arabic text wrong when converting XPS to PDF.
Fixes the issue that the position of some characters is wrong when converting XPS to PDF.
Fixes the issue that caused blank page when converting XPS to PDF.
Improves the function of converting PDF to image.
Fixes the issue that caused incorrect format when extracting text.


Spire.PDF 3.8.173

Fixes the issue that caused the IndexOutOfRangeException when loading XPS file.
Fixes the issue that caused the watermark cannot be added into XPS file.
Fixes the issue that caused image missing when printing the PDF file.
Fixes the issue that caused wrong format when printing the PDF file.
Fixes the issue that caused some text missing when converting PDF to image.
Fixes the issue that caused wrong result when converting PDF to XPS.
Fixes the issue that the layer cannot be deleted.
Fixes the issue that caused ArgumentOutOfRangeException when merging PDF files.
Fixes the issue that caused incorrect result when use Grid.BeginPageLayout to create template.
Fixes the issue that caused wrong result when using spot color to draw line.


Spire.PDF 3.8.158
Support to draw content with spot color.
Fixes the issue that caused the image lost when printing the PDF document.
Fixes the issue that badly formed dictionary next should be a name before 809.
Resolves the issue where creationDate and modificationDate about attachment in PDF were get incorrectly.
Fixes the issue where the watermark didn't work when loading XPS and adding a watermark to each page and then saving it as a Pdf.


Spire.PDF 3.8.121
Support to link to a destination in attachment ("GoToE" action).
Support to create cloud markup.
Fixes the issue that caused wrong content when printing PDF.
Fixes the issue that caused IndexOutOfRangeException when converting PDF to image.
Fixes the issue that caused the layer blending wrong when converting PDF to image.
Fixes the issue that caused "unknown segment in GBIG2 stream" exception when converting PDF to image.
Fixes the issue that caused blank image when converting PDF to image.
Fixes the issue that caused incorrect bookmark when use Pdfdoc.InsertPage method.
Fixes the issue that caused content lost when loading PDF file.
Fixes the issue that caused some text is unable to be found.
Fixes the issue that caused NullReferenceException when gets PdfFormWidget.


Spire.PDF 3.8.102

Fixes the issue where the Arabic text rendered incorrectly when converting XPS to PDF.
Fixes the issue that caused blank image when converting PDF to image.
Fixes the issue that caused blank bar while using the Windows 10 Reader app for opening the generated XPS file when converting from the PDF file format.
Fixes the issue where the half-width character lost when printing the PDF files.


Spire.PDF 3.8.82
Supports to get all certificates in the current signature.Fixes the issue that caused Form missing when converting PDF to image.
Fixes the issue that caused characters missing when printing the PDF file.
Fixes the issue that caused XmlException when accessing PdfDocument.Conformance.

Spire.PDF 3.8.68
Supports to maintain image with high quality when convert XPS to PDF.
Fixes the issue that caused characters missing when convert PDF to XPS.
Fixes the issue that caused wrong content when convert PDF to XPS.
Fixes the issue that caused dotted line wrong when convert PDF to image.
Fixes the issue that caused characters incorrect when convert PDF to image.
Fixes the issue that caused project hanging when convert PDF to image.
Fixes the issue that caused NullReferenceException when merge files.
Fixes the issue that caused StackOverflowException when merge files.
Fixes the issue that caused form field names unreadable.
Fixes the issue that caused InvalidOperationException when load the PDF document.
Fixes the issue that caused incorrect style when replace text on the PDF.
Fixes the issue that caused grid line missing when print the PDF file.

Spire.PDF 3.8.45
Add new method to set the image of button field.
Fixes the issue where image in the PDF document was covered by a black hatch when print.
Fixes the issue that caused open type fonts to display incorrectly when print.
Fixes the issue that caused the content lost when print.
Resolves the issue that caused the exception that ContextColor /Resources/f856973e-951b-491c-ad5f-9fcff4b05a16.icc 1 is not a valid value for Int32 when load.
Fixes the issue that caused the error that badly formed dictionary next should be a name before 9406 when load.
Fixes the issue that caused the value of combox field got added repeatedly when debug.
Fixes the issue that caused InsertPageRange method got stuck.
Fixes the issue that caused accented characters lost when convert to XPS.

Spire.PDF 3.8.22

Add new feature to convert XPS to PDF/A.
Supports to set the Asia character in signature area.
Fixes the issue that caused the return value incorrect when use signature.VerifyDocModified() method.
Fixes the issue that caused the blank image when convert to IMG.
Improves the quality of the image when convert XPS to PDF.
Resolves the issue that caused image lost when draw EMF image into PDF.
Fixes the issue that caused the field format value was null.

Spire.PDF 3.8.8
Add new feature to convert PDF to SVG.

Fixes the issue that caused blank page when print the PDF.
Fixes the issue that caused the string disoriented when print PDF.
Fixes the issue that caused SaveChange warning information when open the document after filling the field.
Fixes the issue that caused page content missing when merge files.
Fixes the issue that caused InvalidCastException when close PDF object.
Fixes the issue that caused non-transparent region when convert XPS which has transparent region to PDF.
Fixes the issue that caused wrong alignment of field value when flat the field or set it ReadOnly.
Fixes the issue that caused exception when load the XPS file.
Fixes the issue where the color of shape was missing when convert XPS to PDF.


Spire.PDF 3.7.330

Fixes the issue that caused multiple signatures invalid when sign a PDF document many times on X64 platform.
Fixes the issue that caused the code128B barcode generated using Spire.Pdf.Barcode was not getting scanned.
Fixes the issue where multiple styles were not applied when draw string using html tags.


Spire.PDF 3.7.292
New Features:
Spire.PDF adds new method to resize the watermark image and change its location.
Spire.PDF adds new feature to get field by Export Value.

Bug solutions:
Improve performance about converting PDF to image.
Fixes the issue that caused the characters displayed repeatedly when convert XPS to txt.
Fixes the issue that caused some content missing when convert PDF to XPS.
Fixes the issue that caused multiline property doesn't work in form field.
Fixes the issue that caused the exception when convert digitally signed PDF documents to PDF/A.
Fixes the issue that caused the exception when export barcode.
Fixes the issue that caused image missing and rotated when convert XPS to PDF.
Fixes the issue that caused wrong characters when print.
Fixes the issue that caused blank content when convert PDF to tiff.
Fixes the issue that caused digital signature missing when print.
Fixes the issue that caused different content after encryption.
Fixes the issue that the field cannot be filled.
Fixes the issue that caused the exception in different Non-Unicode program language when search text.
Fixes the issue that caused different PDF converted from XPS when DPI is different.
Fixes the issue that caused incorrect text when extract text from PDF.


Spire.PDF 3.7.198

We add new method to load the XPS file from stream, and add new properties to check if the document is encrypted. We also fixed the bugs in this version for the verification of signature, the issues of conversion from XPS to PDF, PDF to image and etc.

New features:

Spire.PDF adds new method to load the XPS file from stream.
Add new feature to instantiate the PdfCertificate from a byte array with password.
Add new feature to check if the document is encrypted.
Add new method to convert HTML to PDF until the Html DOM load completely.

Bug solutions:
Fixes the issue that caused the verification of signature failed.
Fixes the issue that caused the exception when find the text that isn't included in the PDF document.
Fixes the issue that caused the error that string was not recognized as a valid DateTime.
Resolves the issue that caused the content shuffled/displaced when convert XPS to PDF.
Fixes the issue where wrong pdf pageSize was set when windows Display Setting bigger than 100% while converting XPS to PDF.
Fixes the issue that caused some objects were shuffled/displaced when convert PDF to Image.
Resolves the issue that caused the exception that Rectangle. "{X=0,Y=0,Width=780,Height=0}" width or height cannot be equal to zero when load HTML.

Spire.PDF 3.7.91
Add the method to support to apply highlight of the searched text with unicode.
Fixes the issue that caused the output not readable when printing.
Fixes the issue that caused the non-English character lost when print.
Fixes the issue that caused garbled mess when print.
Fixes the issue that caused graphic draw incorrectly.
Resolves the issue where the comb field went away when fill the field and flatten comb fields.
Improve the performance of extracting text.
Fixes the issue that caused Javascript not to run inside the pdf for the calculation.

Spire.PDF 3.7
Fixes the issue that content is blank when printing PDF.
Fixes the issue that multi pages are printed into one page when printing PDF.
Fixes the issue that text color changes when converting PDF to Images.
Fixes the issue that signature size becomes larger when converting PDF to Images.
Fixes the issue that content is changed when converting PDF to Text.
Fixes the issue that converted xps file cannot be opened by Adobe Reader when converting PDF to XPS.
Fixes the issue that barcode location is changed when converting XPS to PDF.


Spire.PDF 3.6.260

Add the new feature to change the font size of a labeled digital sign.
Fixes the issue that caused the exception when convert PDF to Image.
Fixes the issue that caused the color incorrect when convert PDF to Image.
Fixes the issue that caused the exception when load PDF document.
Resolves the issue that caused the Argumentexception when replace the image in PDF document.
Fixes the issue that caused content lost when print a PDF document.
Fixes the issue that caused NullReferenceException when use InsertPageRange method.
Resolves the issue that caused InvalidOperationException when saving merged PDF.
Fixes the issue where pdf version can't be changed.
Fixes the issue where text was extracted incorrectly with ExtractText method.
Owners
Authors
Copyright
Copyright © 2017 e-iceblue. All Rights Reserved.
Tags
Dependencies
This package has no dependencies.
Version History
| Version | Downloads | Last updated |
| --- | --- | --- |
| Spire.PDF for .NET 3.9.168 (this version) | 276 | Tuesday, June 20, 2017 |
| Spire.PDF for .NET 3.9.141 | 684 | Wednesday, June 7, 2017 |
| Spire.PDF for .NET 3.9.124 | 1,476 | Friday, May 26, 2017 |
| Spire.PDF for .NET 3.9.82 | 1,391 | Wednesday, May 3, 2017 |
| Spire.PDF for .NET 3.9.27 | 1,122 | Tuesday, April 11, 2017 |
| Spire.PDF for .NET 3.9.0 | 299 | Wednesday, April 5, 2017 |
| Spire.PDF for .NET 3.8.193 | 2,369 | Friday, February 24, 2017 |
| Spire.PDF for .NET 3.8.173 | 1,519 | Tuesday, February 7, 2017 |
| Spire.PDF for .NET 3.8.158 | 1,276 | Wednesday, January 18, 2017 |
| Spire.PDF for .NET 3.8.121 | 976 | Wednesday, December 28, 2016 |
| Spire.PDF for .NET 3.8.102 | 803 | Tuesday, December 13, 2016 |