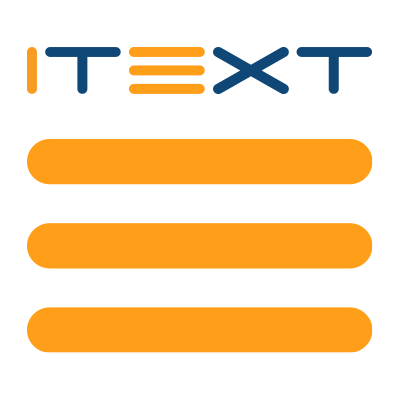 118,196
Downloads of v 5.5.10
609
Average downloads per day
2016-10-10
Last published
License details
provided by Sonatype
AGPL-3.0
iTextSharp
5.5.10
iText 7 Community: https://www.nuget.org/packages/itext7/
iText is a PDF library that allows you to CREATE, ADAPT, INSPECT and MAINTAIN documents in the Portable Document Format (PDF):
- Generate documents and reports based on data from an XML file or a database
- Create maps and books, exploiting numerous interactive features available in PDF
- Add bookmarks, page numbers, watermarks, and other features to existing PDF documents
- Split or concatenate pages from existing PDF files
- Fill out interactive forms
- Serve dynamically generated or manipulated PDF documents to a web browser
iText is used by Java, .NET, Android and GAE developers to enhance their applications with PDF functionality.
iTextSharp is the .NET port.
Several iText engineers are actively supporting the project on StackOverflow: http://stackoverflow.com/questions/tagged/itext
To install iTextSharp, run the following command in the Package Manager Console
Install-Package iTextSharp
Owners
Authors
Copyright
Copyright (c) 1998-2016 iText Group NV
Tags
Dependencies
This package has no dependencies.
Version History
| Version | Downloads | Last updated |
| --- | --- | --- |
| iTextSharp 5.5.10 (this version) | 118,196 | Monday, October 10, 2016 |
| iTextSharp 5.5.9 | 219,894 | Thursday, March 17, 2016 |
| iTextSharp 5.5.8 | 155,582 | Monday, November 30, 2015 |
| iTextSharp 5.5.7 | 97,224 | Thursday, September 17, 2015 |
| iTextSharp 5.5.6 | 126,818 | Thursday, May 7, 2015 |
| iTextSharp 5.5.5 | 80,862 | Monday, February 16, 2015 |
| iTextSharp 5.5.4 | 47,631 | Tuesday, December 16, 2014 |
| iTextSharp 5.5.3 | 81,429 | Thursday, September 25, 2014 |
| iTextSharp 5.5.2 | 37,155 | Tuesday, July 29, 2014 |
| iTextSharp 5.5.1 | 39,132 | Tuesday, May 20, 2014 |
| iTextSharp 5.5.0 | 50,970 | Friday, February 14, 2014 |
| iTextSharp 5.4.5 | 51,501 | Friday, December 6, 2013 |
| iTextSharp 5.4.4 | 33,612 | Monday, September 16, 2013 |
| iTextSharp 5.4.3 | 13,574 | Thursday, August 1, 2013 |
| iTextSharp 5.4.2 | 13,650 | Tuesday, June 25, 2013 |
| iTextSharp 5.3.3 | 64,232 | Monday, October 8, 2012 |
| iTextSharp 5.3.2 | 3,413 | Saturday, September 15, 2012 |
| iTextSharp 5.2.0 | 20,554 | Thursday, March 8, 2012 |
| iTextSharp 5.1.3 | 11,691 | Thursday, December 15, 2011 |
| iTextSharp 5.1.1 | 12,981 | Wednesday, July 27, 2011 |
| iTextSharp 5.0.6 | 11,365 | Wednesday, February 23, 2011 |
| iTextSharp 5.0.5 | 19,291 | Wednesday, January 12, 2011 |